Rock Your Life NYC w/ Taraleigh Weathers & Noah Lehrman
MAGIC IS NORMAL ~ MUSIC IS MAGIC ~ EXPECT MIRACLES EVERYDAY!!!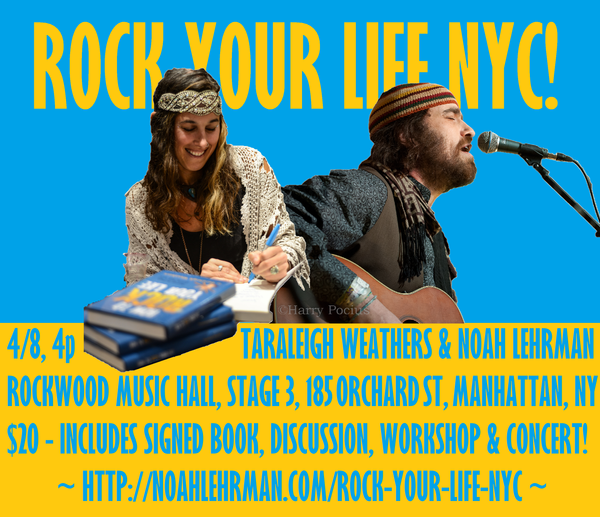 "How to Rock Your Life: Maintain the Magic of Live Music in Your Everyday Experience" Book Party & Noah Lehrman Acoustic Concert!
w/ author Taraleigh Weathers & singer-songwriter/drummer-percussionist Noah Lehrman!
$20 includes signed book, discussion, workshop & concert & meet + greet!
Sunday April 8. 4-6pm, Rockwood Music Hall Stage 3
185 Orchard Street, Manhattan, NYC
TARALEIGH WEATHERS is a journalist, social media personality, retreat coordinator, and a shiny inspiration known for her work with Oteil Burbridge (Dead & Company), moe., Twiddle, Hayley Jane, Ryna Montbleau, and the Huffington Post.
How to Rock Your Life is the book the author wished existed when she was suffering from a chronic case of post-show blues. Beating them with a rainstick, a hack-sack, and a big boatload of intentional life changes, she knew she had to share what she learned. 
If you're a live music fanatic, you'll go anywhere the music is playing for just one more taste of the good stuff. Is it possible to bring that live music magic home with you? It is, and Taraleigh will show you the way. 
Filled with entertaining, laugh-out-loud, inspiring, and vulnerable stories, been-there-done that advice, playful exercises, and many references to Phish and the Grateful Dead, How to Rock Your Life will guide you to maintain the live music magic in your everyday experience.
Just like you do when your favorite band is performing, Taraleigh will show you how you can channel the wildest expression of your authentic self on a daily basis, feel those unique music festival feels at home, and find the magic in even the most mundane and uncomfortable of situations. She'll prove to you that is is indeed possible to surrender to the flow of the present moment before, during, and after the show. 
"The creative power of intention, visualization, prayer, hoping, loving, listening, letting go, being honest with yourself, curiosity, openness, patience, action, quietude, and forgiveness is boundless. Taraleigh sees this so clearly and teaches it in this book."
— Oteil Burbridge, Dead & Company/Bassist
NOAH LEHRMAN / 李文  is a New York City based extistential singer/songwriter and drummer/percussionist.
He has performed with international music legends including Nile Rogers and the late Babatunde Olatunji, and members of Rat Dog, Phil Lesh & Friends, JGB, Blood Sweat & Tears, moe., Dark Start Orchestra, Stella Blues Band, The Klezmatics, Antibalas, and many more.
Noah's love songs, at once evocative and hook-filled, work to reconcile the paradox of unity and duality of self and other through intelligent, incisive lyrics wrapped in catchy, danceable tunes with a sense of romance and wry humor.
His melodic approach to rhythm in his acoustic and electronic drum set and percussion work focuses on both ecstatic improvisation and interpretation of the cannon in the American and world, dance, folk, funk, rock, and sacred music traditions, using sound and silence, the left hand and the right hand to create meaning.
Noah has appeared internationally at festivals from The Big Up, WV's Pink Moon, LA Art Walk, Cosmic Alignment and NY Harvest Fest to the Jerusalem Hoot in The Park, the Tsfat International Klezmer Festival, Skek in Amsterdam, Gladstone in Toronto, and beyond.
He regularly performs live as a solo artist and in Gratefully Yours, Skeleton Keys, Terrapin Chamber Ensemble, Teevoy: Acoustic Phish Trio, and Narkatta, among other acts.
Noah and his music are featured in press ranging from Relix to The Economist magazines, and he regular speaks on the metaphysic and mysticism of music.
Noah is currently recording his debut solo album produced by GrammyⓇ -winner C. Lanzbom (Pete Seeger, Deadgrass, Soulfarm) and due out later this year.
"A wonderfully rootsy sound at once evocative and hook-filled!"
— Peter Hay, London Records